Workshops
Arabesque 2018

---
** Please note that workshop fees are non-refundable .
*You will receive an e-mail confirmation that your registration has been received.
Performance opportunities:
Artist interested in performing must register for at least one workshop and express an interest to perform by e-mail or note on registration form during online registration.  
Vending opportunities : Vendors interested in renting a table for this event , please contact us for more information
---
~Moria Chappell & Helena Vlajos~
Workshop Menu 2018~
Saturday July 14th
9-11 am
Tribal Fusion Drum Solo
by Moria Chappell
TRIBAL FUSION DRUM SOLO offers a unique take on percussion and rhythm.
In this innovative class you will learn to play  music through your muscles using Tribal Fusion's signature locks, breaks, fluid arms, shapes, and combinations as well as Moria's Muscular Belly Dance Technique (MBDT) for layering, traveling, and transitioning.
This exciting and fun workshop culminates in a Tribal Fusion drum solo choreography you can continue to drill in your studio or perform immediately.
*All levels are welcome.
11:15 – 1:15 pm
Zills A Cappella & Zills in General
by Helena Vlahos
An intimate zill workshop with Helena Vlahos. Bring your finger cymbals!
1:30-3:30 pm 
Archetypes in the Dancer
by Moria Chappell
ARCHETYPES IN THE DANCER is an interactive workshop and PowerPoint presentation that explores the Great Mother Archetype and demonstrates how she uses her mercurial partner-in-crime, Trickster, to form this world.
You will learn why image is everything, and how once activated, these archetypes enhance your creativity, choreography, costuming, and your ability to bridge the gap between you and your audience.
By learning the secret of how archetypes rise from inside your body and transmit themselves non-verbally, you will also learn how to make an audience automatically feel every chill and thrill activated by you.
Presented in a forum that combines discussion with movement, Archetypes in the Dancer offers various ways to explore the psyche in order to create a more powerful stage presence and receive a stronger emotional reaction from your audience.
Sunday July 15th
9-11am
Vintage Workshop
by Helena Vlahos
Vintage Belly Dance 1960's & 1970's (6 Parts)

This is an overview of the 6-part routine with emphasis on the second slow part
which is Chiftetelli (4th part)
1) Fast: Entrance with Traveling Steps and Turns. The veil is wrapped around your body in your
favorite style to be used in your first slow piece of music which is after the entrance.
2) Slow: Bolero or Rumba will be used in your first slow part. We will manipulate the veil in artistic
and tastefully sensual movements. At the end of this section you will discard the veil to prepare for the
next section of your dance.
3) Medium: Maqsum, Balady or Saidi with sassy combinations to spice up your dance with these
popular rhythms
4) Slow: Chiftetelli Combos using Hip Circles, Figure Eights, Mayas, Sways, Camels, and their
variations where each move melts into the next with graceful arms to compliment your every move with
Helena's classic stylization.
5) Drum Solo: We have so many choices of drum solos. Some are fast and exciting, some slower and
more playful, some have a lot of rhythm changes. This is a great part of our dance to draw our audience
in. In this section we are building up to our finale.
6) Finale: A short exciting finale will follow using moves as in the Entrance. Our music can be the
same as our entrance music but cut down to about 30 seconds to one minute.
What to bring to the workshop:
Veil & Zills
We will do a little floorwork so bring knee pads if you need them
12:30-2:30pm
Temple Dance Fusion
by Moria Chappell
TEMPLE DANCE FUSION incorporates sacred temple and royal court dances from ancient India, Java, Cambodia, China, and Hawaii. Over the course of the past decade, Moria has traveled to these countries to learn from dance instructors who have kept the secrets and techniques of their traditions alive as part of a chain of knowledge handed down across thousands of years.
The intricacies of these dances, layered and blended with Tribal Fusion belly dance techniques, produce a beautiful tableaux of what is most inspiring and captivating from these cultures including dance styles, unique props, costuming, jewelry, make-up, and hair design.
The goal of the workshop is for dancers to learn basic temple dance techniques from a variety of cultures in order to embellish their performance repertoire and add to it unique and exciting stylistic elements from the world of Odissi Fusion, Javanese Fusion, Cambodian & Chinese Apsara Fusion, and Hula Fusion.
When working with Moria, you will receive authentic information from primary sources.
Her instructors treasure their sacred temple and royal court dances and wish to impart them to serious and devoted students of their ancient and beloved cultural heritage.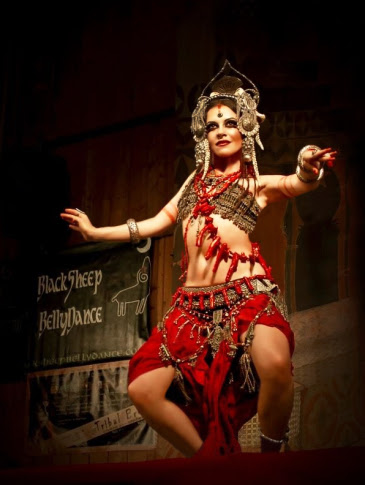 BIOGRAPHY
Moria Chappell
Touring 42 countries worldwide Moria Chappell has spent the last 16 years performing and teaching the art of Tribal Fusion and Temple Fusion Belly Dance.  A Tribal Fusion belly dancer since 2001, Moria became a principle dancer, and subsequently the Artistic Director, for the world famous Bellydance Superstars from 2005-2015. Moria is heralded as an innovator in choreography, costume and make-up design, and as a creator of newly formed fusion arts in the realm of Temple and Sacred Arts dance.
A popular and sought after teacher, Moria has developed a unique methodology and approach to belly dance control, the foundation of which is her trademark teaching style: Muscular Belly Dance Technique (MBDT).  Both feminine and fierce, MBDT synthesizes the  intensity and precision that epitomizes Tribal Fusion isolation and individualism.
Moria Chappell was the first to fuse and fully choreograph Odissi Indian Temple Dance with Tribal Fusion Belly Dance while touring with The Bellydance Superstars in 2008.  After lengthy, biannual stays in India, Moria has spent the last decade researching world temple dances by traveling to countries along the ancient trade routes that connected Asia and the Indonesian and Polynesian islands with India, North Africa and Mesopotamia over 5,000 years ago.  Finding seed movements that are linguistic tags connecting an ancestry of ancient dances going back millennia, her performances and trademark style represent a conversation of ancient temple dance technique as it has survived through the ages.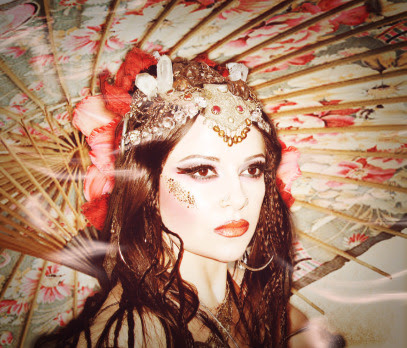 The diaspora of movement from which she selects and connects ancient dance via modern Muscular Belly Dance Technique creates innovation in movement and increases the palette for the Tribal Fusion Genre.  Her field of research and study include Tribal Fusion Belly Dance, Odissi Indian Temple Dance, Javanese Solo Dance, Cambodian and Chinese Apsara Dance, Chinese Dai and Thai Peacock Dance, Hula and Polynesian Dance, Tibetan and Nepalese Tantric Dance, North African and Middle Eastern Belly Dance, Spanish Flamenco, and Balkan-style movements.
Moria is currently writing a book on the 64 Yoginis Tantric Temple with her mother Dahna Koth, a lifelong researcher of world mythology and ritual theatre.  Exploring the notion that temple dances from around the globe at one time shared a common ancestral mode of goddess worship out of which belly dance, temple dance, and sacred movement were born, this book reveals hidden and lost symbolic meanings surrounding the Yoginis' poses, hair styles, order of position, weapons, jewelry, animal associations, and potential movement.  Publication is scheduled for 2018.
While Moria Chappell is featured in multiple performance and instructional DVDs via The Bellydance Superstars, her most current work will be available via online classes beginning mid 2017.
Moria recently created two full length, theatrical belly dance fusion shows Nocturnal and Incantation.  They featured a cast of fellow Bellydance Superstars core dancers and devoted belly dance colleagues from around the globe with whom she collaborated.
Incantation was accompanied by operatic vocals and a 10-piece live Balkan Band; both shows represent a first of their kind in theatrical belly dance performance.
Apart from her bellydance pursuits, Moria Chappell is a current member of Urvasi Dance Ensemble, an Odissi Indian Classical Temple Dance troupe founded and directed by Guru Ratna Roy who is a professor and Lifetime Achievement Award recipient in the field of preservation and continuation of the Mahari style of Odissi Classical Indian Dance.
Moria moved to Washington State in 2010 to continue the training and development of her Classical Odissi Indian Temple Dance technique and knowledge with Dr. Ratna Roy exclusively.
A powerful and beautiful women's dance tradition, the Mahari style of Odissi dance was crushed in the 20th century. Characterized by the blending of spirituality and sensuousness as well as the extremely lasya(meaning "supremely graceful and smooth") upper torso movement, Mahari dance themes are woman-centered, whether it be the Mother Goddess herself or famous women from the epics of India.  Dr. Ratna Roy is one of the few teachers still alive to have studied directly under the Maharis themselves and remained exclusively in the tradition of the Maharis throughout her ongoing career via her teacher, Adiguru Pankaj Charan Das.
Helena Vlahos
Helena Vlahos is a precise, energetic performer & instructor with a wealth of knowledge to
share!
She teaches improvisation and choreography, zills, veil, cane, arms, hip articulations, upper
body, belly work (with quarters & dollars), and rhythms with zills (beledy, Maqsum, saidi,
chiftetelli, 9/8 & 6/8 to name a few).
She is a legendary belly dancer who is well known for her "Nine Quarter and Dollar Bill Act". She
is in the Guinness Book of World Records for Unique Abdominal Dexterity.
Helena started her dance career in Los Angeles, California in the mid 1960's. She moved to
Texas in 1971, where she was asked to perform at various Greek nightclubs. While there, she
ran and operated two belly dance schools.
Helena moved back to Los Angeles in 1978 and was invited to perform her unique act on
television shows such as "AM Los Angeles", "That's Incredible", "Spectacular World of Guinness
Records" and many more.
In 1990 Helena moved to Phoenix, Arizona, where she taught classes at numerous colleges,
dance studios and resorts. She also found time to perform at the Bacchanal Greek Restaurant.
She is on the Executive Panel of Judges for Tonya & Atlantis' Belly Dancer of the Universe
Competition every February in Long Beach, California.
Helena has mentored dancers who have gone on to win titles in competitions including the
BDUC.
Helena's finger cymbals can be heard on Damon the Gypsy's original (1969) and re-mastered
(2009) album "Song of a Gypsy" and in his new re-mixed album "Gypsy Eyes". Damon has a new
DVD "Dance Little Gypsy" in which Helena has a featured part.
Helena moved back to Los Angeles in the fall of 2011, where she teaches and performs when
not traveling for master workshops.
Phone: 818-618-9746
helenavlahosdance@gmail.com
www.HelenaVlahos.com
www.BellyDanceLA.com